We welcome all volunteers who wish to participate in the physical restoration of the Vienna central cemetery. Our activities take place on Sundays 1-2 times a month and are published on our facebook page.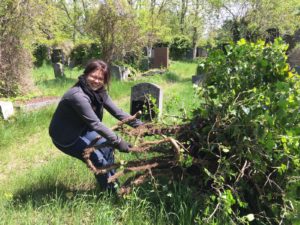 What should I bring?
We attempt to provide all of the basic needs, like water, juice, sunscreen and bug spray. You will also be provided with the tools you need to participate such as gardening shears, gloves, pruning tools, rakes and wheelbarrows. Once we are done and hungry, we hop for a complimentary lunch at an Israeli restaurant in the city.
What should I wear?
We encourage participants to dress properly for garden work. Long work pants, hats, sturdy shoes, weather appropriate jackets and clothes that could possibly get dirty. The Jewish cemetery asks men to wear a head covering (a hat will do!). Judaism wishes women to dress modestly.
What are the risks involved?
All participants are insured. We ask you to inform us of your participation, if possible, a week in advance for the purpose of insurance. (All we need is your full name. You can inform us over facebook or by email). While we are personally insured, the gravestones of the cemetery are not. Some are old, cheaply made, fragile and neglected. We start each event with a briefing regarding safety precautions.
Since we are doing manual labor, it is possible that you may get a few scratches.
The Central Cemetery is a large forest-like ecosystem with many plants and animals (deer, porcupines, pearl chickens, pheasants, flamingos, just kidding.) Unfortunately, Austria is also a red zone for infectious ticks that cause meningitis or Lyme disease, especially in natural environments. A simple TBE vaccination is highly recommended.
How is this financed?
The re:member project is completely voluntary and it will remain so. It aims at no profit, and employs no one. The current operating costs are minimal (Tools, insurance and food are the main costs) and are covered by the IKG ("Israelitische Kultusgemeinde", the Jewish community).
We are looking into future endeavors involving digitization and online archiving. These would then bear higher costs with need of further external financing (see: How may I contribute even more?)
Is the work authorized?
Yes, our work is done under the authorization and supervision of the IKG and Chewra Kadischa, which are the responsible organs of the Austrian Jewish Cemeteries.
How may I contribute even more?
Great question! We detail a few other ways you can help support our work here.
How do I get there, where is the meeting point?
We usually meet at the entrance to the 4th gate of the cemetery, which is accessible by car and public transportation. If you wish to come from central Vienna by bike, we meet at Schwarzenbergplatz approximately an hour earlier (check out our facebook page for details).
What will I get out of it?
Firstly, a bit of sunshine and fresh air (chances of sunlight in Vienna may vary according to weather, seasons and sheer luck). Besides doing some active good, our gratitude and everlasting eternal glory, we also meet up afterwards for a complimentary lunch at an Israeli restaurant in the city. We would love to offer upon request an official participation certificate, for the more frequent re:Memberers.